When dogs mimic famous people, it's an odd yet entertaining phenomena. They don't quite resemble people, but they do seem to have the personality and expressions of a renowned person.
Such was the case with Pawl Ruff, a dog from a shelter that everyone says resembles actor Paul Rudd.
The animal shelter even made an attempt to recruit the Ant Man star himself in the hopes that this endearing similarity would help the dog find a home.

Rudd is one of the most popular and likeable Hollywood actors of the present day, best known for his roles as the superhero Ant Man in the Marvel Cinematic Universe and in the comedies Clueless and Anchorman.
And lately, the Tennessee-based Collierville Animal Shelter discovered that one of its pups may be the actor's twin.
The shelter said on Twitter that it had found one of their dogs was destined to be with Paul Rudd while creating love connections between pets and people.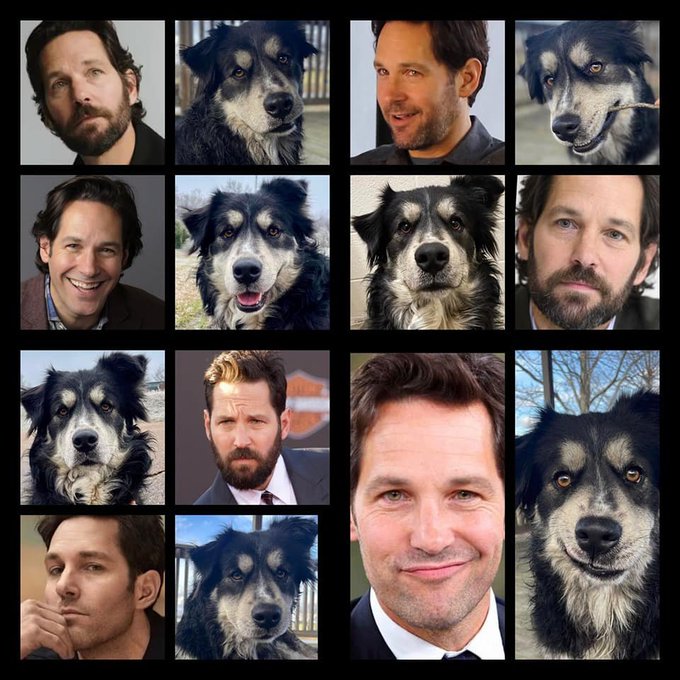 The 65-pound Australian mix dog, formerly known as Waffle House, is described by Pet Finder.
He was quickly renamed "Pawl Ruff" as everyone at the shelter saw how much he resembled Paul Rudd.
If you need further proof, Jenny Dixon created a photo collage comparing "Pawl" and Paul side by side to demonstrate how similar their appearances are: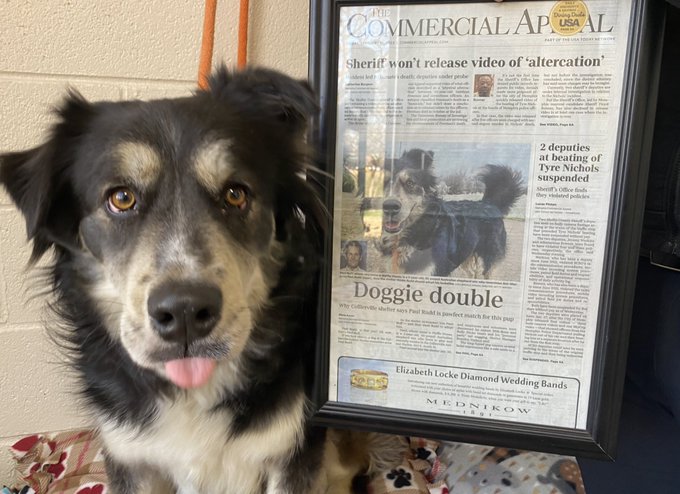 There are other similarities outside appearances as well. According to the shelter, Pawl Ruff is a really kind guy, much like his well-known namesake.
I'm the type of person you want as your neighbor, closest friend, or lifelong companion. I'm a sweet, easygoing fella. Perhaps I am the canine equivalent of Paul," his adoption website speculates.
The animal sanctuary then made it their duty to inform the star about his canine impersonator. In the hopes that the actor might react or even adopt the puppy himself, they tweeted at him (the guy doesn't have an account, so they tagged @AntMan).
What could possibly be more valiant than adopting a puppy from a shelter, they asked.
We'll give Paul Rudd some leeway as he's currently busy with the release of Ant Man and the Wasp: Quantumania, but it's unclear whether he even noticed the tweet, but Pawl Ruff did end up receiving his very own Hollywood ending.
The shelter reported that Pawl Ruff had been adopted in an update. Not in Hollywood, but in Collierville, the place where he was born and raised.
After his viral success, Pawl Ruff has gained some local notoriety and is soaking up the attention in a way that would make Paul Rudd happy.
The Municipality of Collierville tweeted a picture of Pawl holding a local newspaper with his face on the top cover. In one instance, the dog even performs a "pawtograph."
Although if Pawl Ruff didn't end up moving in with the actual Paul Rudd, famous people occasionally do adopt their own doppelgängers. For instance, the genuine actor Dennis Quaid once acquired a cat with the same name!
While it wasn't meant to be this time, Paul Rudd does own a pet dog, proving that the Ant Man actor does have a soft spot for canines.